Kotlin brand assets
Kotlin Logo
Our logo consists of a mark and a typeface. The full-color version is the main one and should be used in the vast majority of cases.

Our logo and mark have a protective field. Please position the logo so that other design elements do not come into the box. The minimum size of the protective field is half the height of the mark.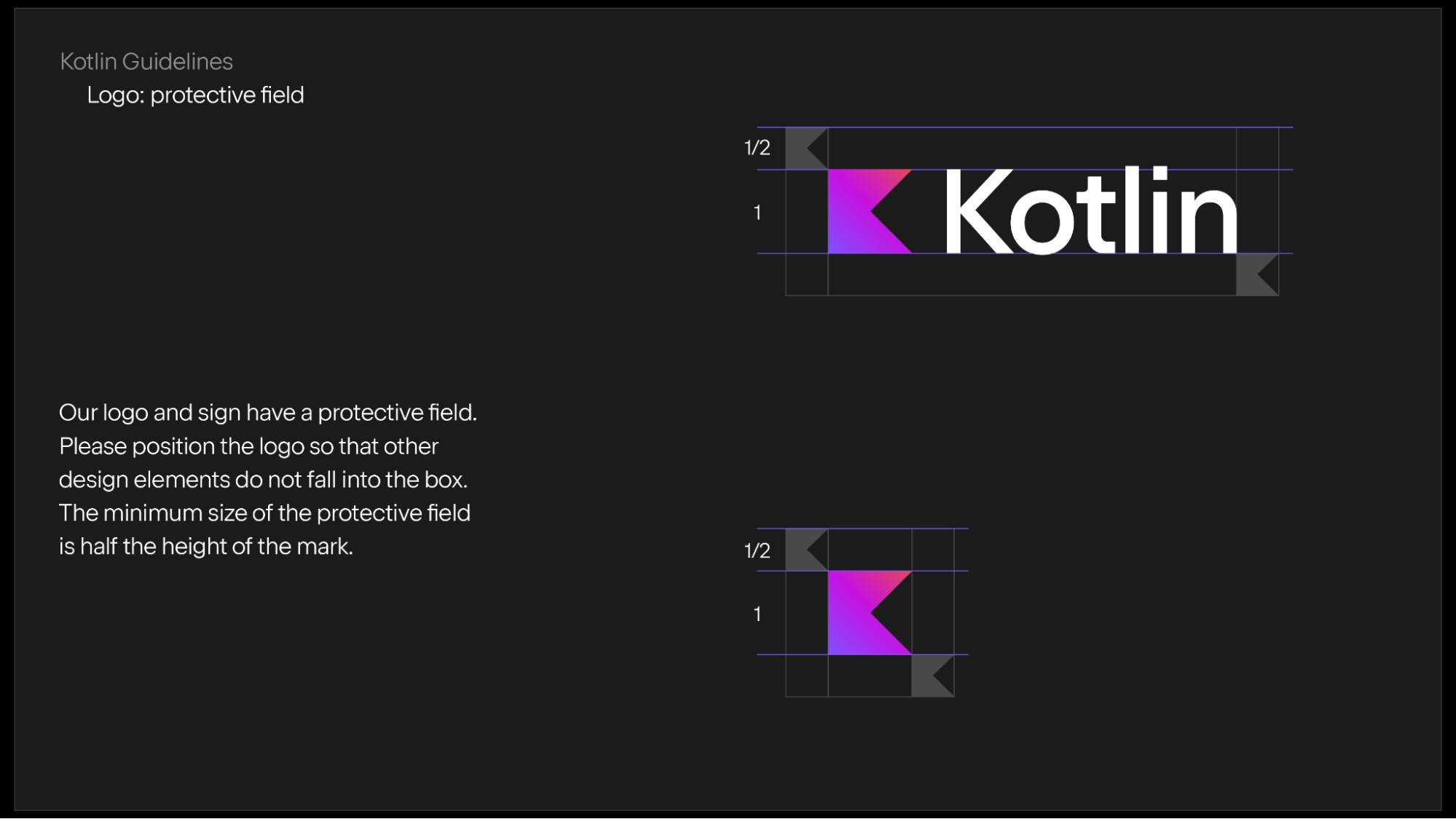 Pay special attention to the following restrictions concerning the use of the logo:
Do not separate the mark from the text. Do not swap elements.

Do not change the transparency of the logo.

Do not outline the logo.

Do not repaint the logo in third-party colors.

Do not change the text.

Do not set the logo against a complex background. Do not place the logo in front of a bright background.
Kotlin User Group brand assets
We provide Kotlin user groups with a logo that is specifically designed to be recognizable and convey a reference to Kotlin.
The official Kotlin logo is associated with the language itself. It should not be used otherwise in different scopes, as this could cause confusion. The same applies to its close derivatives.

User groups logo also means that the opinions and actions of the community are independent of the Kotlin team.

Your opinions don't have to agree with ours, and we think this is the most beneficial model for a creative and strong community.
Kotlin Night brand assets
JetBrains provides branding and materials for Kotlin Night events. Our team will prepare digital assets for the event promotion and ship your merchandise pack containing stickers and t-shirts. Check out what we have to make your Kotlin Night fun!
Social media
Stickers can be used to brand any media necessary for a Kotlin Night. Just stick them on anything you can get your hands on. It's fun!
Branding stickers
Stickers can be used to brand assets for a Kotlin Night. Just stick them on anything you can get your hands on. It is funny!
Press-wall
You can decorate a press wall with stickers for unforgettable event pictures.
Sticky badges
Use stickers as badges for the attendees and boost networking at the event!
Board for stickers
Or you can provide a board where your guests can paste stickers with their impressions, feedback, and wishes.
T-shirts
Guests of the event are offered to paste stickers on the board with their impressions of the meeting. What does it mean for you?
Last modified: 21 June 2022